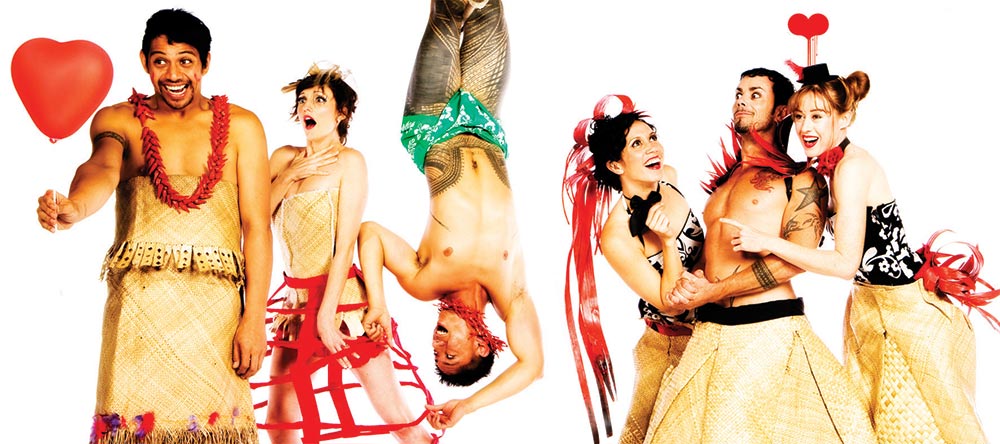 Polytoxic is based in Brisbane, Australia, and creates work inspired by the traditions of the Pacific, the guts of physical performance and the crimes of pop culture.
Incorporating dance-theatre, physical cabaret and visual design, the company's ethos is to create entertaining, robust work with a political, contemporary and satirical bite.
Since 2000, Polytoxic's work has taken them from traditional huts to beachside lagoons, glitzy fashion parades to dusty big-tops, and independent seasons to major festivals. Polytoxic's Teuila Postcards played to packed houses throughout Australia, including Sydney Opera House, Artshouse Melbourne, Ten Days on the Island Tasmania, Come Out Festival Adelaide, Brisbane Powerhouse and QPAC; as well as internationally at Wan Smolbag International Arts festival Vanuatu, and Planet IndigenUs Festival, Canada.
Most recently, Polytoxic's stunning visual installation work Trade Winds was performed atop water at Harbourfront Centre, Toronto; their large-scale physical theatre work The Rat Trap premiered at Queensland Theatre Company; and their party topper The BackUP Service entertained audiences at Adelaide Fringe Festival and during Brisbane Festival as part of Motherboard's show 지하UNDERGROUND.
Recognition of Polytoxic's artistic and cultural merit is reflected in their positioning as Studio Artists at Queensland Theatre Company (2012), Company in Residence at Brisbane Powerhouse (2009-2012), members of MAPS for Artists (2009 – present), and critical response to their touring works. Polytoxic are also strong advocates for multicultural contemporary performance practice and have participated as speakers on this topic at numerous national and international forums.
Polytoxic is a collective of renowned independent artists and is driven by Co-Director, choreographer and designer Lisa Fa'alafi (Hot Brown Honey Burlesque, Phluxus2); Co-Director, producer and performance-maker Leah Shelton (The Good Room, The Brides of Frank); and Co-Director, choreographer, and director Fez Faanana (Briefs, QTC Design for Living).
Collaborators include circus artist Mark Winmill (Briefs, King of Burlesque 2011 world champion); circus artist and cultural leader Natano Faanana (Briefs and Casus); circus artist, choreographer Amanda-Lyn Pearson (The CrackUp Sisters); dancers Liesel Zink and Nerida Matthaei; visual artist Samuel Tupou; animator Pete Foley; Director Anni Davey; and DJ / composer Busty Beatz, among others.